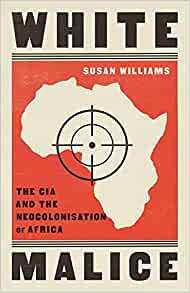 The shocking, untold story of how African independence was strangled at birth by America's systematic interference.
Accra, 1958. Africa's liberation leaders have gathered for a conference, full of strength, purpose and vision. Newly independent Ghana's Kwame Nkrumah and Congo's Patrice Lumumba strike up a close partnership. Everything seems possible. But, within a few years, both men will have been targeted by the CIA, and their dream of true African autonomy undermined.
The United States, watching the Europeans withdraw from Africa, was determined to take control. Pan-Africanism was inspiring African Americans fighting for civil rights; the threat of Soviet influence over new African governments loomed; and the idea of an atomic reactor in black hands was unacceptable. The conclusion was simple: the US had to 'recapture' Africa, in the shadows, by any means necessary.
Renowned historian Susan Williams dives into the archives, revealing new, shocking details of America's covert programme in Africa. The CIA crawled over the continent, poisoning the hopes of 1958 with secret agents and informants; surreptitious UN lobbying; cultural infiltration and bribery; assassinations and coups. As the colonisers moved out, the Americans swept in―with bitter consequences that reverberate in Africa to this day.