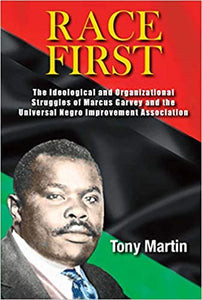 This book has the important element that is missing in most of the books and articles on Garvey--a political analysis of what the Garvey Movement was about.
This book is based on the simple premise that no one could have organised and built up the largest black mass movement in African-American history, in the face of continuous onslaughts from communists on the left, black reactionaries on all sides, and the most powerful governments in the world, and yet be a buffoon, or a clown, or even an overwhelming impractical visionary.
Tony Martin's meticulous work, solidified Garvey's importance to Pan-African history, the Civil Rights Movement, Black Power and African liberation movements around the the world.  Marin was one of the earliest scholars to view Garvey's legacy as a lasting testimony in the struggles of Black diasporic people. In 1983, Martin founded The Majority Press.  He  went on to author and publish other books on Garvey, Pan African culture, and several titles by other authors on related themes.