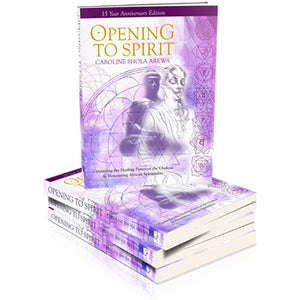 Opening to Spirit – Healing Power of the Chakras, honouring African Spirituality.
Is a Classic in-depth book on the Chakra System. This book takes a powerful ancient system and makes it accessible for today. Opening to Spirit has become a much loved book to many, who want to enhance physical health, encourage emotional stability and elevate spiritual awareness. And most importantly, this is all done from a scholarly and inclusive cross cultural perspective. This is a new look at the ancient Chakra System. Used by, Spiritual Seekers, Yoga Teachers, and Yoga Teacher Trainings worldwide! 
Opening to Spirit – is an in-depth exploration of the Ancient Chakra System. Caroline Shola Arewa draws on a wealth of spiritual wisdom and mythology from Ancient Egypt, Early India, and West Africa creating a healing system that helps you raise awareness, develop greater consciousness and claim you spiritual inheritance.