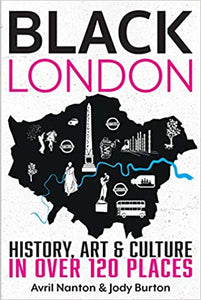 Discover the people, places, and landmarks that make London a truly global, modern city.
The story of Black history

 

throughout London, with historical richness and symbolism from the Tudor times to the present day
Complete travel guide

 

to the people, places, events, and landmarks in London that have shaped Black history
Over 120 historical sites

 

all over London, detailing the Nelson Mandela Statue, Cleopatra's Needle, the Black Lives Matter mural, and more
5 detailed maps

 

with handy markers for each location to visit, breaking London down into easy areas to explore
London is a city justly proud of its cultural diversity, yet for too long the focus has been on mainstream history. Black London is a complete guide that shines a new and much-needed light on the rich Black history of London's inhabitants and beyond.
London is rich with global and local Black history. Look up, slow down, and discover the work of some remarkable individuals who made London a truly global, modern city! From Cleopatra's Needle carved in Egypt 3,500 years ago, which sits on the Victoria Embankment, the Nelson Mandela Statue in Parliament Square, and the Stuart Hall Library in Westminster to the Memorial Gates in Constitution Hill, the Wayne Marques corbel on the London Bridge, the Black Lives Matter mural in Woolwich, Jamaica Wine House in Cornhill, and so much more, this must-have travel guide showcases over 120 historical sites worth visiting and revisiting.
Co-author Avril Nanton is a qualified London tour guide and Black history historian who offers lectures and tours on Black history in the London area, while co-author Jody Burton is a librarian and bibliophile with a particular interest in Black history and art. Inside this 192-page book, they take you on a journey through the Black history of London, one area at a time! You'll find annotated walking maps for Central and East London, West London, North London, South London, and South-East London, each with helpful numbered markers so you can build your own perfect walk through history.
Here are some of the fascinating locations in this book to visit and explore their Black history:
Central and East London:
Bronze statue of Mary Seacole in the gardens of St Thomas' Hospital
Johnson Beharry portrait at the National Portrait Gallery
Buxton Memorial Fountain in Victoria Tower Gardens
The home of Jimi Hendrix in Mayfair
West London:
Cetshwayo kaMpande's English Heritage plaque on Melbury Road
Memorial to the Great Exhibition in South Kensington
Notting Hill Carnival
Bust of Haile Selassie I in Cannizaro Park
North London:
Alexandra Palace Murals featuring Winifred Atwell, Evelyn Dove, and Una Marson
Steel statue of Jazzie B outside Finsbury Park Station
Bust of Marcus Mosiah Garvey in Tottenham
Tombstone of Cynthia Jarrett in Tottenham
South London:
The Dark and Light Theatre Company (DLT) in Camberwell
Phoenix sculpture at Oliver Goldsmith Primary School
The Peckham Portraits at Mountview Academy of Theatre Arts building
Black Cultural Archives (BCA) in Windrush Square, Brixton
South-East London:
Nelson's Ship in a Bottle by Yinka Shonibare MBE at the Greenwich Maritime Museum
Blue Earth sculpture at The Horniman Museum in Forest Hill
Steel portrait of Samuel Coleridge-Taylor in Croydon


Explore more than 120 historical sites worth visiting and revisiting, and see this familiar city anew, with Black London.