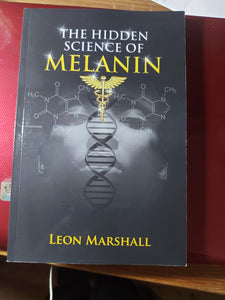 Much has been written about melanin over the years.  Yet, to this day, many are still confused about what it really is and  what it does.  Is it a really just a pigment that protects the skin from the harmful rays of the sun? Or is there more to it than that?  What role does the pigment play in fertility and childbirth?  How is it produced inside the body?  Which foods would be best to strengthen it?  All this, plus more, is revealed inside the most simplified science book ever written on melanin.
Join the Scientist, Leon Marshall, as he takes you on a profound journey into darkness.  This book is designed to uncover what is being hidden in plain sight.  Discover the fascinating role that melanin plays in the dark universe.  Explore the mind-blowing link between melanin and marijuana, and unearth the truth about water and melanin. 
This is your opportunity to learn about melanin from a radically new perspective and start enjoying a new a new knowledge of self.  With over 120 published scientific references, and over 50 colour illustrations, plus the simplistic way in which Leon Marshall teaches, you will find that  you'll easily and logically understand the deep complex science of melanin, without the confusion.  Every one is confused about melanin.  The confusion ends now.